In-Class Exam Scanner
The goal of this project is to create a portable exam scanning station for LON-CAPA randomized exams or quizzes. The randomization means that every student has a different version of the problems. The setup will enable instructors to frequently run fully randomized exams and quizzes in class with immediate feedback and grading inside of LON-CAPA. One or more of these stations can be set up in a lecture hall, using standard ethernet connections.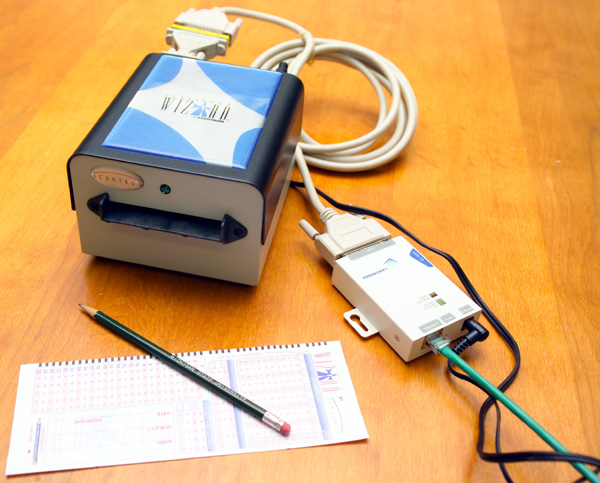 The current development setup consists of a ScantronTM 1212 scanner, and a LantronixTM UDS-10 device server. The devices are portable and can be deployed anywhere on campus.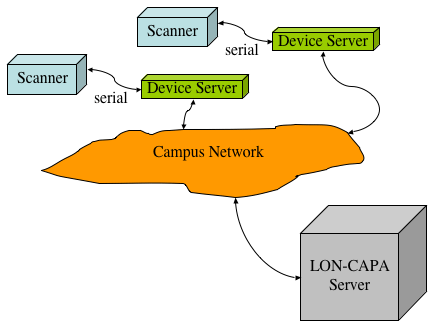 During initialization, the device server will obtain an address anywhere on campus through DHCP, and connect to a daemon process running on the LON-CAPA servers. LON-CAPA will validate the identity of the scanner and configure it. When a student feeds a sheet into the scanner, the data will be captured and analyzed by the LON-CAPA daemon, and the exam sheet either be accepted (ejected at the back), or rejected (ejected at the front) if bubbles are missing, etc. A later phase may include an LCD display for more detailed error messages. The instructor can initialize the grading process at any time.
Project Status
January 2004
Aquisition of equipment
March 2004
Able to control scanner from laptop, able to interpret output with TCL program
May 2004
Device server registered with MSU, DHCP address support
May 2004
Aquisition of serial LCD display for status feedback to student
May 2004
Started server daemon:

device server automatically connects to server
server daemon successfully reads scanned data

August 2004
Finished LCD feedback display, registered UDS 200 device server
Mock-ups of exam sheets (two types distinguished by row 1 bubble, two color each):


Contact Us: lon-capa@lon-capa.org
Site maintained by Gerd Kortemeyer.
Supported by the National Science Foundation under NSF-ITR 0085921, NSF-CCLI-ASA 0243126, and NSF-CCLI 0717790. Any opinions, findings, and conclusions or recommendations expressed in this publication are those of the author(s) and do not necessarily reflect the views of the National Science Foundation. Initial funding for CAPA has been provided by the Alfred. P. Sloan Foundation and the Andrew W. Mellon Foundation.